About VFA.........
Sustainable Natural Resource Management Projects
Sustainable Development Programs (HIV/AIDS, Malaria prevention and control, ICT and Enterprise Development.
Networking and Linkages for Community Action and Development
VFA Community Resource and Training Centre.
Donate/Participate in VFA Programmes across East Africa
Volunteer with VFA in East Africa
Will you support our volunteers work in places like this............
or
Do you want to Become VFA's Goodwill Ambassador?
or
Enter into Partnership with VFA..................
Donate to support the work of VFA..............
In a world where no one can claim to be all able, even organizations such as VFA rely on the support of well-wishers to ensure that they meet their mandate... By donating money to VFA, you will have gone a long way to contributing positively to your social responsibility for this world.....
The money that you raise helps us to combat poverty and injustice. Doing it is fun and gets lots of people involved with our work.
We support development programmes for the most disadvantaged groups; for rural and community development; for education, training and employment; for health; for HIV/AIDS and for the environment.
Money raised goes where it's needed most: over 90% of our income is spent directly on projects and programmes in East Africa
There are loads of things that you can do with our help:
Do a sponsored event like a silence, fun run or bike ride or organize your own event or challenge.
Before you organize any event , please talk to our staff for we could assist you with publicity and other materials to make your event successful.
Email us on volunteersafrica@yahoo.com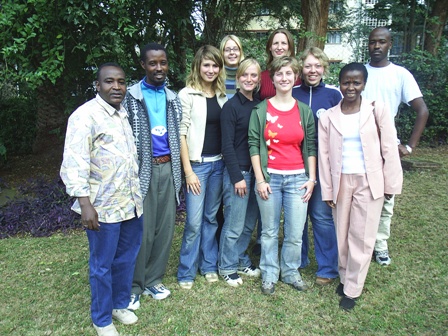 You could also support our work directly by wiring money to us, sending us a Postal Order, or writing us a Cheque. Our Account Details are:
Volunteers For Africa,
Account Number 01 400 80011001
Swift SBIC KE NXA
Bank Name: Stanbic Bank Kenya LTD, Nairobi Branch
Stanbic Bank Building, Kenyatta Avenue, P O Box 30550
00100 GPO, Nairobi
Kenya
Tel: (254-2) 335-888, Fax: (254-2) 330-227,229-287, Telex: 22397
Join in with others
. Look for local events where there may be opportunities to hold small fundraising activities, such as a stall or game. Your local library is a good place to start.
Football or sports tournaments –involve local villages, towns, organizations, companies and friends. Ask individuals to pay an entrance fee or to get sponsored per goal.
Dress days – hold a dress down/up day at work and charge £3 or $4 for everybody who wants to join in.
Quiz night – organize an evening at a local pub on a week night. If you can do it regularly then so much the better!
Hold a raffle as part of a fete or bazaar. This can be simple and easy to organize but do contact us first for advice about the law.
Have a party. Organize a picnic, BBQ or dinner, ask participants for a donation on entry and incorporate fundraising games as part of the fun.